What is Guava?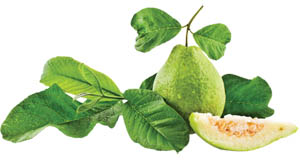 Botanically known as Psidium guajava – is an evergreen, fruit-bearing plant with dark elliptic leaves. Guavas originated from an area thought to extend from Mexico or Central America and were adopted as a crop in Asia, Pakistan and India, tropical Africa and the Mediterranean coast.
---
What is Guava Tea?
Our tea bags are made from 100% Guava Leaves, that's it! We don't fill up our tea bags by mixing our guava leaves with other leaves, because with each cup you drink, we want you to receive the full health benefits that guava leaf tea has to offer.

Fresh natural young guava leaves are picked for our tea, washed and dried, then crushed, ground and roasted without sacrificing taste or medicinal properties.

Mild pleasant flavour;

Pure and natural;

Caffeine free;

No artificial colours, preservatives or flavours;

Each tea bag is sealed in foil to ensure maximum goodness;

The packaging materials manufactured and tested in accordance with the EU standard regulations;

Complies with EU pesticide regulations for quality, food safety and toxicological standards.
---
Where Does Guava Tea Come From?
Our Guava Tea is harvested and manufactured in the Guangxi region, southern China. The region is known for it's natural scenery and mountainous environment. The manufacturer has successfully passed ISO9001:2000 quality system certification.
ISO 9001:2000 specifies requirements for a quality management system where an organization. needs to demonstrate its ability to consistently provide product that meets customer and applicable regulatory requirements
---
How Guava Leaves Work?
Not only does drinking guava leaf tea taste great, the leaves are full of antioxidants, anti-inflammatory agents, antibacterials and contain beneficial flavonoids and tannins. Drinking a tea made by guava leaves may be beneficial for people with diabetes, weight loss, lowering cholesterol, digestive and cardiovascular health, and treating diarrhea.
Diabetes
Flavonoids and other compounds found in guava leaves may offer to help regulate blood sugar levels after eating, especially a high-carbohydrate meal. The review in "Nutrition and Metabolism" summarizes laboratory findings from several studies indicating that guava leaf tea inhibits several different enzymes that convert carbohydrate in the digestive tract into glucose, potentially slowing its uptake into your blood.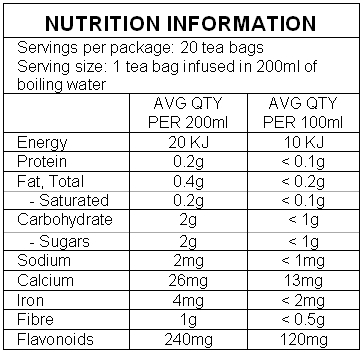 Several clinical trials conducted in Japan that support guava tea's possible anti-diabetic action, showing that drinking the tea regularly helped lower after-eating blood glucose in subjects with Type 2 diabetes, compared to similar subjects who didn't consume the tea.
The dietary fibre in guava leaves helps to regulate the absorption of sugar by the body, which decreases the chances of major spikes and drops in insulin and glucose in the body. Drinking guava tea may reduce high blood sugar levels and may prevent the start of Type 2 diabetes, as discovered in a research conducted by Microbial Research.
---
Weight Loss
Drinking guava tea may assist with weight loss by preventing complex starches that are consumed from being converted into sugars. The transition of carbohydrates to usable compounds when being broken down in the liver is prevented, therefore assisting with weight loss.
---
Cholesterol
Drinking guava tea may be beneficial in regulating cholesterol and triglyceride levels. Participants in a study who drank guava tea had lower cholesterol, low-density lipoprotein levels and triglycerides after eight weeks, whether or not they were receiving medical treatment to lower their cholesterol levels, according to an article published in February 2010 in 'Nutrition & Metabolism'. Other trials ranging from 4 weeks to 12 weeks have also shown similar results.
---
Digestive and Cardiovascular System
Guava leaf tea may be beneficial for the heart and circulatory system, according to laboratory research and several clinical studies. Compounds in the leaves may help reduce blood pressure and heart rate, according to a laboratory study published in 2005 in "Methods and Findings in Experimental and Clinical Pharmacology".
---
Diarrhea
Guava tea may help to inhibit a variety of bacteria which cause diarrhea. Drinking guava tea may assist people with diarrhea to experience fewer stools, less abdominal pain, less watery stools and a quicker recovery. Guava leaves contain natural phytochemicals, including several antioxidants called carotenoids and anthocyanins, and others called flavonoids. Some of its compounds may have natural antibiotic activity that helps kill pathogens responsible for diarrhea, according to laboratory research published in 2008 in "Revista Do Instituto de Medicina Tropical de Sao Paulo," a Spanish-language publication.
---
How to prepare Guava Tea?
Brew instructions: Add freshly boiled water to a tea bag and leave for 3-5 minutes.
Taken: Consume during or after your meal will serve the best result.
For more information you can watch our video:
Alternatively, please refer to the blog section of our website which lists many recipes featuring guava tea.
---
Please refer to our FAQ for answers to most common questions about guava leaf tea.
Legal Disclaimer: This product is not recommended for pregnant women. We advise consumers to consult their doctor or health care practitioner. Guava Tea does not claim or aim to cure or prevent any health related issues or diseases.