Posted by Vicki Caravias on 23rd May 2017
Hello everyone,
Vicki Caravias here.
I am gearing up to walk 14km Dandenong Ranges National Park Kalorama Circuit Walk on Sunday 28 May 2017 with the YHA Bushwalking Club.
This walk which starts and finishes in Kalorama in the Dandenong Ranges, takes in the trails of Mount Evelyn. The walk starts with some short steep ascents and descents through the mountain ash. We then continue along an undulating track to Silvan Reservoir where we will stop for lunch. After lunch we continue along the fairly flat track among the ferns before making a steep ascent up Mount Evelyn. We continue along the top of the mountain with a couple more short steep ascents and descents before returning to Kalorama.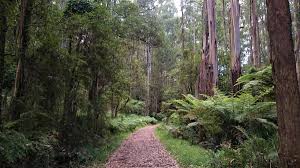 The YHA Bushwalking club has been in existence since 1939 and is a foundation member of the Federation of Victorian Bushwalking Clubs. Our club is made up of a healthy bunch of people who enjoy getting out into the bush to walk with a sociable group of like minded people. To cater for all our members we run a wide range of bushwalks including relaxing Social Walks, Day Walks and Weekend overnight trips which can be Accommodated, Base-Camps or Pack-Carry Walks.
For more information regarding the YHA Bushwalking Club, click here.
In a recent study, Warburton et al (2006) evaluate the current evidence relating to regular physical activity in the primary and secondary prevention of premature death and the development of chronic diseases. Research results support the importance of regular physical activity for the primary prevention of type 2 diabetes.